Hillsborough Inquests: Survivor describes 'drowning' feeling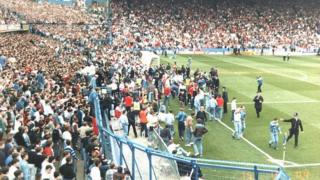 A fan who survived the Hillsborough disaster has told a jury how he felt like he was "drowning" underneath bodies after a barrier collapsed.
Anthony Hollinrake, who was 25 at the time, said overcrowding on the Leppings Lane terraces meant he had "no control" over his movements in pen three.
The court heard he saw a young boy who was trying to escape the pen twice "pushed back in" by a police officer.
He also spoke about helping a man who was "bent backwards" over a barrier.
Ninety-six fans died following a crush in the terrace pens at the FA Cup semi-final in Sheffield between Liverpool and Nottingham Forest on 15 April 1989.
Mr Hollinrake, who attended the match with his brother Peter, told the court he noticed a "young lad, probably 10 years of age" opening a gate in pen three in an attempt to escape.
Asked why the boy was doing that, he said: "Obviously because it was very crushed - the pen was full."
He said he saw the boy "being pushed back in by a police officer", then pushed a second time when he tried again.
'Got to get out'
Mr Hollinrake said he was moved towards a safety barrier with the crowd and saw a man "bent backwards" over it.
He said: "He asked me to help and I tried to do what I could. I held his head and his torso."
Mr Hollinrake said while comforting the man, he felt the barrier start to give way.
"I lost control of the young man that I was trying to hold up and basically I was just thrown forward on to the people in front of me. They fell on top of me," he said.
He said he was left "disorientated" and that being beneath bodies felt like he was underwater and "drowning".
"I remember thinking 'you've got to get out of here' and thinking about my loved ones."
He said he had cried out for his brother who, along with a police officer, eventually helped him out of the pen.
---
Who were the 96 victims?
BBC News: Profiles of all those who died
---
The Warrington hearing also heard from former police officer Eamonn Larkin, who described how he tried to feel for the pulses of fans who were crushed against the fence at the front of the terraces.
Mr Larkin said some of the people he checked "were alive" and he tried slapping their faces to rouse them but got "very little response".
He said a fan climbing over the fence then fell on top of him, knocking him unconscious.
The former police officer said he woke up in the recovery position on the pitch and went straight back to trying to help fans in pen three, before needing hospital treatment himself some time later.
The inquests were adjourned and will resume on 3 November.