Rochdale cab firm allows passengers to choose driver's colour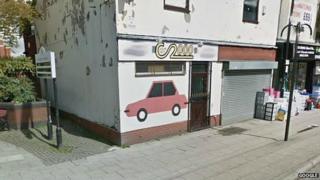 A taxi firm based in Rochdale has said it respects the right of passengers who wish to choose their driver's colour.
Stephen Campbell, who runs Car 2000 in Heywood, said "people ask us to provide them a certain service and we try and do our best to provide that for them".
He said the firm received up to 60 calls a week asking for a white driver by customers using the word "local".
Rochdale Borough Council said the firm was not in breach of its licence but added that it was taking legal advice.
Mr Campbell said: "If they ring up and ask for an Asian driver, we will send them one. If they ring up and ask for a 'local' driver we will send them one.
"We also get people specifically ringing up by name for a driver, and we try and send them as well."
'Fit and proper'
In May 2012, nine men who ran a child sexual exploitation ring in the Heywood area were jailed.
Two of the men worked for the now-defunct cab firm Eagle Taxis, which was taken over by Car 2000.
Mark Widdup, director of economy and environment at Rochdale Borough Council, said: "Any private hire business must satisfy a 'fit and proper' test before they are licensed by the council and able to operate within the borough.
"While we have not had any complaints regarding Car 2000 up to this point, we are now taking legal advice as to whether their policy to offer white drivers contravenes the 'fit and proper' test, and will act accordingly depending on the outcome of that advice."
Speaking to BBC Radio 5 live, David Lawrie, of the Rossendale Taxi Association in Lancashire, said: "I don't think it's anything do with grooming - I've been in this trade for over 20 years and it has always happened."
He added: "It's not us making that choice, it's our customers making that choice."
Mr Campbell said all of his drivers were self-employed and he could not "force a driver to do a particular job if he does not want to do it".
Naeema Choudry, an employment lawyer at Eversheds, said: "Discrimination legislation applies in employment to more than just your employees.
"Under the Equality Act, there are provisions that make it unlawful for you to discriminate against people who are personally providing services on your behalf."