Bury drugs baron John Clark jailed for 25 years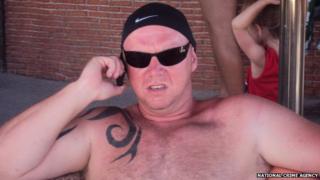 The head of an international drug dealing operation in Greater Manchester has been jailed for 25 years.
John Clark, from Waterfoot in Lancashire, had previously admitted money laundering and conspiracy to supply class A and B drugs.
Also known as Miller, he was arrested in Morocco in 2013 after fleeing across Europe in a Bentley, police said.
The judge at Bolton Crown Court also banned the 36-year-old from leaving the UK for 10 years after his release.
Greater Manchester Police said he was in charge of a criminal gang based in Bury, importing amphetamines, cocaine and heroin from the continent.
From his luxury homes in Europe, Clark ran a drugs empire that stretched from Scotland and Merseyside to London and Lincolnshire, police added.
Investigators seized drugs with a potential street value of more than £17m, the Crown Prosecution Service said.
'Trappings of wealth'
The drugs boss also splashed his wealth on expensive cars and homes. It's believed he had an Audi worth £120,000, nine properties in Lancashire and several houses abroad, including in Spain.
During a surveillance operation in 2011, detectives saw Clark hand over a bag containing £113,860 to a money launderer at Knutsford service station on the M6 in Cheshire.
They also found £77,000 in two shoeboxes when they raided his £1.2m Waterfoot farm in 2012, as part of an investigation into a Birmingham money laundering gang involved in transferring money overseas for Clark and other UK drug traffickers.
In one nine-month period, Clark's gang had also moved drugs worth £11m, police added.
After Clark was charged with money laundering, he fled the UK before his trial was due to start in April 2013.
He drove to Tenerife in a Bentley Continental but investigators later traced him to Morocco, where he was arrested in June 2013.
His capture followed an investigation by the National Crime Agency [NCA] and the Serious and Organised Crime Group at Greater Manchester Police.
Det Insp Lee Griffin said Clark was "at the head of a sophisticated, well-connected network of drugs dealers".
"Most of the gang enjoyed the trappings of wealth that most hard-working people can only imagine, but they would have known from the start that even the biggest empires can crumble."
An investigation into Clark's finances is continuing, said an NCA spokesman.
Eight members of Clark's gang were jailed in October 2013, each receiving terms between four years and 16 years.
Karen Tonge, from the Crown Prosecution Service, said: "Today the leader of a multi-million pound drugs gang has been taken off the streets of Greater Manchester for a significant length of time, completing the final piece of the jigsaw in this complex case."