Man detained for attempted murder of PC stabbed in head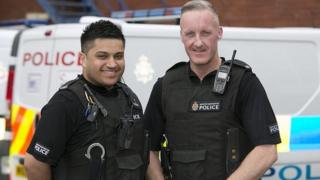 A man who stabbed two police officers has been detained in a secure psychiatric hospital indefinitely.
Dawan Ismail, 32, was convicted of attempted murder last month.
Manchester Crown Court heard officers were called last April to a report that Ismail had assaulted his neighbour in Stamford Street, Old Trafford.
Ismail confronted them before stabbing PC Adnan Ali in the head three times and slashing his face and neck. PC Pete Goulding was stabbed in the shoulders.
Ismail was also found guilty of assault and wounding with intent to cause grievous bodily harm.
PC Ali, who has been working with Greater Manchester Police for 10 years, said he managed to call for backup after the attack.
He said: "I remember him trying to keep getting at me with the knife. Pete was trying to get him off and I went to stand up but felt my legs go from underneath me.
"I remember my sergeant standing over me, checking my injuries and I told her, 'don't tell my family, don't let them know what's happened, that I've been hurt, until we get to the hospital'.
"I didn't think I'd make it out of that room alive."
'Pride in the uniform'
Both constables were treated in hospital for stab wounds.
PC Ali spent five months undergoing rehabilitation and counselling before returning to work.
"After the attack my mum asked me to maybe consider doing something else, but I love this job," he said. "I feel pride wearing this uniform and I'll carry on attending 999 calls and being there for those who need my help."
Both officers received bravery awards from Greater Manchester Police in June.
Supt Jim Liggett said: "This case demonstrates the daily dangers faced by our officers when responding to incidents.
"What seemed like a routine callout turned into a violent assault that left two officers seriously hurt."