'No brutality' at Barton Moss anti-fracking protests, probe finds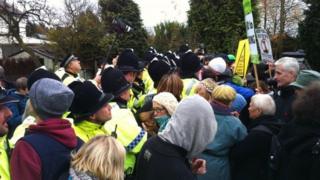 No evidence has been found of police brutality towards anti-fracking demonstrators in Salford, an independent report has found.
Protests began at Barton Moss last November when energy company IGas started test-drilling for shale gas.
A probe was set up following a number of clashes between protesters and Greater Manchester Police (GMP).
GMP has also been told the government will not pick up the £1.7m bill for policing the protests.
'Not substantiated'
A panel was set up by Greater Manchester Police and Crime Commissioner Tony Lloyd to look into how the force handled the operation.
The report found that "although the majority of people at the site were there to protest peacefully, a small number wanted to antagonise police and cause trouble".
Panel chairman Martin Miller said it was a "complex and difficult operation" which "saw officers subjected to daily abuse as they carried out their job".
He said: "We also found that some protesters were shoved and felt they were treated badly although I want to stress that allegations of police brutality have not been substantiated."
He added many things were "done right" by GMP but the panel found that many of the issues could have been "mitigated or resolved by better pre-planning" and "more constructive communications and engagement" with protesters.
Mr Miller said he would work with the force to make sure recommendations are put into practice.
Chief Constable of GMP Sir Peter Fahy said he welcomes and accepts the report's recommendations but said legislation around dealing with protesters needs to be clearer.
'Patrolling communities'
About 60 anti-fracking protesters set up a camp close to the IGas site near the M62 and Barton Aerodrome last November.
Frack Free Greater Manchester welcomed the report but said some "important questions remained unanswered".
They included a police claim that protesters fired a flare at the force helicopter which the group said should be referred to the Independent Police Complaints Commission.
Martin Porter said it was a "peaceful protest" and no evidence been produced in relation to the "Flaregate" incident.
He said: "For [GMP] to claim that these peaceful protesters launched a terrorist attack is totally unacceptable. If this story was made up to discredit peaceful protesters and justify repressive policing, then there must be consequences."
Barbara Keeley, MP for Worsley and Eccles South, had expressed concerns over the number of officers policing the Barton Moss protests instead of "patrolling in our local communities".
GMP Chief Constable Sir Peter Fahy also revealed the cost of policing the Barton Moss protests was £1.7m.
He also said there was "considerable frustration" in the force with current legislation on obstruction which he described as weak and which put officers in a "very difficult position".
In January, GMP asked the government to meet the costs but the Home Secretary has since refused, it emerged.
Deputy Police and Crime Commissioner Jim Battle said it was "disgraceful the people of Greater Manchester are expected to carry the burden of the cost".
Fracking involves pumping a mixture of water and chemicals into shale rock at high pressure to extract gas and oil.
The firm said gas was found in shale rock during test-drilling at the Barton Moss site.
Exploratory drilling stopped in March while samples are analysed.