Man arrested after 200 blood bags damaged in east Manchester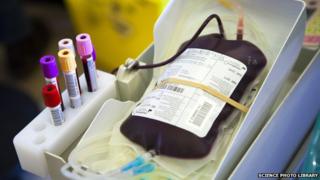 More than 200 bags of blood donated in east Manchester were "deliberately damaged", said police.
NHS Blood and Transplant (NHSBT) reported concerns in June that blood packs had been tampered with.
A spokesman said the donations "never entered the blood supply" and there was no evidence anyone had been harmed.
A health worker, who was part of a team collecting blood in the area, was arrested last month on suspicion of criminal damage.
The 27-year-old man from Bolton was bailed pending further enquiries and remains suspended on full pay.
Sessions cancelled
The 202 damaged blood packs were collected from 17 donor sessions between March 2013 and June 2014.
A NHSBT spokesman said the affected bags represented 0.01% of the total volume collected in east Manchester during the 16-month period.
"As this is part of a current police investigation, we are unable to go into further detail but would like to reassure people that there is no evidence that any donors or patients have come to any harm.
"The damage caused to the blood bags through suspected deliberate damage meant they were unusable and never entered the blood supply."
The east Manchester blood donation team was taken off the road, donation sessions were cancelled and additional checks on handling blood packs introduced, he added.
"We apologise for any inconvenience for our donors and appreciate this may have been disappointing. We are in the process of getting the team up and running within the next few weeks."