Dementia: 'Poor support' and misdiagnosis of early onset patients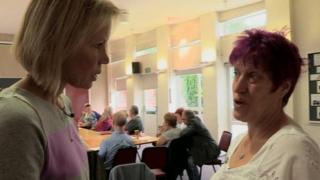 Misdiagnosed or lacking specialist help, many people living with young onset dementia in the North West are not getting the support they need.
Difficulties diagnosing dementia, combined with a social support system which is geared towards the elderly, means that those aged between 30 and 65 often struggle.
According to an Alzheimer's Society report, there were 4,516 people under the age of 65 with young onset dementia in the North West in 2013, equivalent to about a tenth of those in the UK.
Difficult to diagnose
The charity estimates that 60% of people with dementia in the UK are "struggling in the dark with no formal diagnosis".
And the perception of dementia as an older person's disease means that doctors find it difficult to diagnose younger people, says Sue Clarke from Dementia Awareness in Manchester.
"GPs will say themselves they've not got a lot of knowledge around dementia sometimes. So the person may get misdiagnosed with depression or somebody a bit older may say 'it's just part of ageing, just go and get on with your life'.
"But we do know that when someone gets a diagnosis, they can have access to medication in some cases, lots of support services and just getting the diagnosis of which [type of]dementia it is can often help so that we know how to support people."
Earlier this month, NHS England's chief executive Simon Stevens announced £5m extra funding for GPs to increase identification of people with dementia.
---
Joy's story
Joy Watson from Eccles found out on her 55th birthday last year that she has Alzheimer's disease.
She also found there was a lack of local specialist services so she and her husband Tony set up their own support group.
"There was nothing in this area for young people and this group has grown and grown because of the need. And it's amazing", she told the BBC's Inside Out North West programme.
There are currently no residential homes or respite services in the Manchester area for those under 65 - meaning they can only use elderly care homes.
Joy's dream is to fill this gap, creating accommodation for younger dementia sufferers in the Salford area.
"There has to be more awareness and getting rid of the stigma and, if I can do a little tiny bit towards that, then I'm up for it," she said.
---
Genetic tests
In September, Alzheimer's Research UK awarded £80,000 over two years to support dementia research across the North West.
Professor Stuart Pickering-Brown from the University of Manchester specialises in young onset dementia.
His research unit, which has helped to identify the three main genes for the disease, can now offer genetic tests for patients and their families.
He said: "We need much more investment in dementia research if we are to develop effective treatments."
Mr Pickering-Brown said it was vital to improve the early identification of people who are going to develop dementia before they get ill.
Prime Minister David Cameron recently pledged to increase funding for dementia research and to make new drugs more accessible.
Find out more about living with dementia on BBC Inside Out North West on Monday night at 19:30.