Man 'trapped under' Manchester Metrolink tram on night out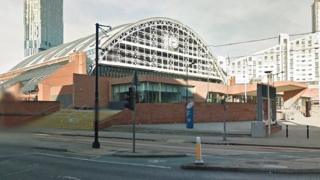 A man has been hit by a Metrolink tram in Manchester while on a night out.
Police said the 41-year-old victim was walking on Lower Mosley Street before crossing tram tracks outside the entrance to Manchester Convention Complex, at about 02:00 BST.
Greater Manchester Fire Service said he was "unconscious and trapped under the tram" when emergency services arrived.
He was taken to hospital where he remains in a critical condition, police said.
The fire service said: "He was on his own when he was hit by the tram.
"We jacked the tram up and got the man out in about 10 minutes."
Anyone on a night out in the city centre has been advised to take care crossing tram tracks.