HS2: East Cheshire residents 'in limbo' over planned new railway line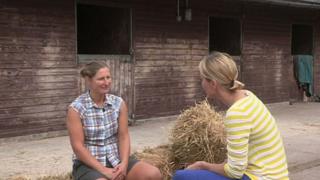 The government's proposed HS2 high-speed rail line is dividing both land and local opinion in one part of Cheshire.
For those in the east of the county like Clare Worth, 39, who runs a farm in Lymm, the track would even divide family, separating her from grandparents who live on the same lane.
The Department for Transport says the line will transform the North, stimulating regional economies. It has been welcomed by some councils and business leaders.
But some say they could lose their homes and claim they are living in limbo as they await further news.
Ms Worth has lived on her farm all her life but has now been handed a compulsory purchase order for the land.
She said: "It feels like we are serving some kind of indefinite life sentence... we feel powerless about the situation HS2 has put us in".
The proposed route cuts straight through the lane leading to her grandparents' house.
"My grandparents rely on me for my support... I really want to be able to care for them for the rest of their lives. No amount of compensation could ever recompense me if I lost these family ties through HS2.
"This is my history and I would like it to be our future".
Work on Phase One of the project, from London to Birmingham, is due to start in 2017.
Phase Two is a double-pronged extension linking Birmingham with Manchester and Leeds. The final decision on the route, stations and depots for this phase is expected by the end of the year.
Double impact
As the HS2 line splits off to Manchester and Wigan, a triangle of track is created which threatens to hem in the community of Millington.
Already dealing with the impacts the Highways Agency's new A556, which cuts through the hamlet, residents are increasingly unsure of their future.
The chairman of the parish council, Diane Flanagan, said: "By the time the A556 and HS2 are built, Millington will no longer exist as a parish."
The hamlet's regional council, Cheshire East, is supporting the project and focussing on lobbying for a hub station at Crewe.
'In the dark'
An investigation by BBC Inside Out North West found that residents have had little or no communication from HS2 Ltd, who are running the project.
Richard Clegg, a farmer from Lymm, explained: "HS2 have said nothing to me... No letters, no communications nothing at all. I've learnt from the press really and from action groups that sprang up."
Raj Chandarana, community and stakeholder engagement manager for HS2, said he was sorry they feel that way.
"Once we know what the line of route is we will make sure that as far as humanly possible every person that's going to be affected will have access to HS2 personnel at the end of a phone line, on social media and email and face to face," he said.
HS2 Ltd is promising to minimise environmental impact during construction and argues that the project can be part of a low carbon transport system in the UK that will help meet climate change targets.
But Cheshire Wildlife Trust say that HS2 Ltd is "falling very far short" in its plans for offsetting the risks to 11 local wildlife sites.
An environmental impact assessment will be conducted alongside the creation of a Hybrid Bill to be submitted in the next session of Parliament.
Prime Minister David Cameron has said opponents of the £50bn scheme are "putting the future of the North of England at risk".
The HS2 debate is featured on Inside Out North West at 19:30 BST on Monday.