Syria aid efforts 'hampered by counter-terrorism police'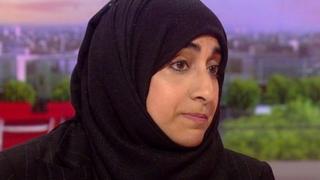 Humanitarian efforts in Syria are being hampered by UK counter-terrorism measures, claims a Manchester doctor.
Police have said anyone travelling to and from Syria must be investigated to try to identify potential extremists.
Greater Manchester's chief constable Peter Fahy said this is "part of the difficult work we have to do".
But Shameela Islam-Zulfiqar, a doctor who has been questioned by police following aid trips to Syria, said the system was "draconian".
She told BBC Radio Manchester: "I was really made to feel I was partaking in some kind of criminal activity on my arrival back at Manchester Airport because I was questioned for hours whilst my family stood outside.
'Serious concerns'
"They had all also been questioned by counter-terrorism police.
"I just find it ridiculous really in the 21st Century, it's quite draconian how our authorities are dealing with humanitarian aid workers, doctors, accountants, pharmacists, teachers and any other professionals travelling to this region.
"We all seem to be subject to a uniform process to establish whether we are going out to help the poor and destitute or joining some jihadi fanatics who form a tiny, minuscule part of the Muslim community."
Mr Fahy, who also who leads the counter-terrorism strategy for the Association of Chief Police Officers, also told BBC Radio Manchester: "It is a difficult situation because some people who have gone out there for humanitarian efforts have ended up being kidnapped, or have ended up being radicalised themselves, so it's right I think that we raise those very serious concerns.
"If we believe people coming back into this country have been in Syria then clearly they are questioned and they are asked to account for themselves and that is part of the difficult work we have to do in trying to identify people who may have been involved in that sort of activity."