Concern over cost of Oldham Old Town Hall redevelopment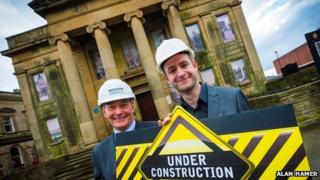 Concerns have been raised about the cost of a flagship development in Oldham town centre after it emerged the council may have to contribute £36m.
The Grade II listed Old Town Hall is being developed into a 800-seat cinema and entertainment complex.
Labour council leader Jim McMahon said the plan was vital for the town.
So far there are no private investors and Lib Dem head of finance John McCann said it was a worry the local authority would have to fund the project.
He said: "I think it's a great idea the site is being brought back into use.
"It will be a game-changer, it will give a lot of work to people, but it really has got to be very carefully managed and that's my concern.
"The question I have is the total cost of it is many, many millions of pounds so how much of that is Oldham going to have to take the long-term liability for?"
Mr McMahon said at this stage he could not provide a final cost of the development as commercial negotiations were continuing.
He said: "£36m is the estimated cost of the project. Within that there will be grant funding elements, a potential of government subsidy and occupiers will pay a commercial rent."
The complex, due to open in 2015, will house a seven-screen cinema and six restaurants and is the centrepiece of the council's town centre regeneration.
The council-owned Old Town Hall has not been used since 1980. It has been subject to a number development proposals since the 1990s but they were unsuccessful.