Developers appeal Ramsbottom bio energy plant rejection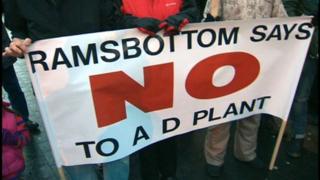 Developers have appealed after plans for a plant which converts biological waste into energy were rejected over fears about the smell.
Bury Council's planning committee turned down the application for an anaerobic digester at Fletcher Bank Quarry in Ramsbottom, near Bury.
Marshalls and Peel Environmental's plant would process 45,000 tonnes of food waste a year to generate methane.
An independent planning inspector will review the application.
The gas from the anaerobic digester would be used to generate electricity and heat and would produce bio fertiliser for use on land, Marshalls and Peel Environmental said.
'Very disappointed'
Planning officers had recommended approval for the development but councillors voted unanimously to block the plan in March.
They cited the fact the proposed plant was on green belt land and the concerns about odour.
Kieran Tames, development surveyor at Peel Environmental, said: "We were disappointed that our application was refused earlier this year.
"The proposals include strict odour control measures which would be closely monitored by the Environment Agency to ensure local residents are not affected."
Ian Bevan, Ramsbottom ward councillor, said: "I am very disappointed they have done this. People are really upset about it."
"The council was overwhelmingly against the application."
The developer said the proposal could be subject to a public inquiry next year once the planning inspector has reviewed its appeal.