Manchester children put 'potentially at risk', Ofsted finds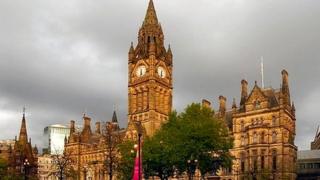 Up to 500 vulnerable children were potentially put at risk by Manchester City Council's "inadequate" children's services, according to Ofsted inspectors.
A report said 486 children had to wait a "considerable amount of time" for a social work assessment.
It said the council took "insufficient action to address the problem".
In response, the authority said it was confident that children at risk of harm are "properly protected".
In the previous Ofsted inspection of Manchester's children's services, conducted four years ago, the operation was rated as "adequate".
But the new inquiry, held in July, found the city's Safeguarding Children Board (LSCB) - which monitors the council's child protection services - was also inadequate.
Ofsted inspectors said the board did not show "sufficient awareness" that children and families were being "effectively" safeguarded.
---
Ofsted report findings
Independent reviewing officers and conference chairs do not challenge poor social work practice effectively
Too many children, particularly black ethnic minority children, are waiting to be adopted in Manchester
The local authority was unable to provide accurate data in relation to the number of care leavers in employment, education or training during the inspection
---
The report also said the authority does not gather enough data to assess child sexual exploitation activity in the area.
It added: "Responses to children missing from home and care and private fostering are not sufficiently managed or evaluated to ensure that interventions are timely and effective."
The council said it had cleared the backlog of social work assessments and has started "safely" reducing the number of cases that social workers need to deal with.
In a statement, Manchester City Council said: "While we have already identified and were working on the issues raised by Ofsted we fully recognise that change needs to take place quicker."
The council has set up a task force with organisations including the police and the NHS to review and improve the department.
Jane Booth, interim independent chair of Manchester's LSCB, said: "The board had already put plans in place to address these issues after carrying out our own self-assessment prior to the inspection.
"Whilst improvements do need to be made, the inspectors were clear that they did not find any cases in Manchester where children or young people were deemed to be unsafe."