National Football Museum holds shirt 'amnesty'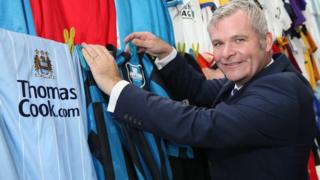 A Manchester museum is holding a football shirt "amnesty" to gather "worn out and ill-fitting" strips for grassroots projects across the world.
The National Football Museum's campaign is in support of the Street Child World Cup charity, which helps homeless children in 19 countries.
It has seen a donation of 26 shirts from BBC commentator Guy Mowbray.
Museum director Kevin Moore said the hope was to get a shirt from every UK club.
"We believe there's barely a home that doesn't contain a football shirt," he said.
"We know that many lay neglected in the bottom of wardrobes and cupboards - maybe it doesn't fit any longer or isn't worn because it's a few seasons out of date.
"If you have an unwanted shirt then get them to us, either by post or by dropping them off at the museum in person.
"Those old, worn out and ill-fitting strips can help bring new joy to homeless children across the world."
The "amnesty" runs until 26 September.