'Thousands' at risk from FGM in Greater Manchester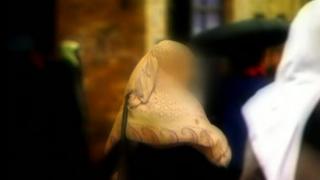 Up to 2,000 girls are believed to be at risk of female genital mutilation (FGM) in Greater Manchester, the area's police and crime commissioner has said.
Tony Lloyd said the practice was "barbaric" as he campaigned to raise awareness and support victims.
In the past two days, officers intercepted 20 families at Manchester Airport, mostly on flights from Africa.
Police are also investigating cases in Wigan and Bury and have reports of girls at risk in Trafford.
FGM involves procedures that include the partial or total removal of the external female genital organs for cultural or other non-medical reasons.
Although banned in the UK, thousands of girls are subjected to FGM each year, with Greater Manchester identified as one of six "hotspots" in the UK.
Based on intelligence from community members, officers stopped specific families at Manchester Airport returning on flights from countries such as Somalia.
Det Insp Jeremy Pidd said: "We simply say to them, 'have you had this procedure done, how are things, you've been out in a risk area with a risk child for an awfully long time, have you had any problems, have you had this done?'.
"Based on their reaction and if there are grounds to do so, we may take that further."
Jaria Hussain-Lala from the Greater Manchester FGM Forum says it does incredible damage.
"The health impacts are immense. We have to remember it's mainly carried out by medically untrained professionals.
"One of the other issues is that the same instruments are used to cut several girls."
---
Female genital mutilation (FGM)
Includes "the partial or total removal of the female external genitalia or other injury to the female genital organs for non-medical reasons"
Practised in 29 countries in Africa and some countries in Asia and the Middle East
An estimated three million girls and women worldwide are at risk each year
About 125 million victims estimated to be living with the consequences
It is commonly carried out on young girls, often between infancy and the age of 15
Often motivated by beliefs about what is considered proper sexual behaviour, to prepare a girl or woman for adulthood and marriage and to ensure "pure femininity"
Dangers include severe bleeding, problems urinating, infections, infertility and increased risk of newborn deaths in childbirth
In December 2012, the UN General Assembly approved a resolution calling for all member states to ban the practice
Source: World Health Organization
---
The practice is particularly common in some African, Asian and Middle Eastern communities, but has become increasingly prevalent across the UK.
Mr Lloyd has made tackling FGM one of his priorities as police and crime commissioner. He said it was "tantamount to child abuse".
"It is illegal, life-threatening and has a long-term emotional and physical impact on young victims. In short, it is barbaric.
"It is a very secretive practice, with many victims suffering in silence. We all - police, health and education services and councils - have a responsibility to bring this issue into the spotlight and protect vulnerable members of our communities."
As part of the campaign, Greater Manchester Police, health services and all 10 councils have signed up to support victims and educate those who work with vulnerable children.
Frontline staff will be taught how to spot the signs of FGM, identify vulnerable young girls and how to protect and help girls at risk.