Raid targets illegal sport streaming site in Manchester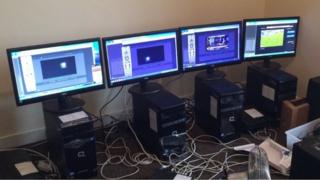 A man suspected of illegally streaming live sports events on an "industrial" scale is being questioned by police.
Officers from the Police Intellectual Property Crime Unit (PIPCU) raided an address in Cheetham Hill, Manchester and seized 12 computer servers.
They arrested a 27-year-old man on suspicion of streaming a wide range of sporting events from across the world.
The unlawful operation is believed to have cost subscription-only TV services up to £10m, said police.
The operation was supported by Greater Manchester Police.
Det Ch Insp Danny Medlycott, head of PIPCU, said: "Today's operation is the unit's third arrest in relation to online streaming.
"Not only is there a significant loss to industry with this particular operation but it is also unfair that millions of people work hard to be able to afford to pay for their subscription-only TV services when others cheat the system."