Woman completes clock tower abseil on wedding day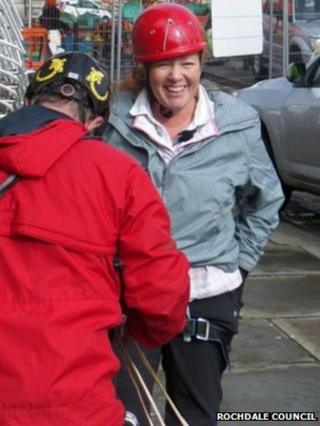 A bride with a fear of heights has taken the plunge hours before her wedding by abseiling down a 190ft (60m) clock tower.
Emma Dunham, 42, of Norden in Greater Manchester, abseiled down Rochdale town hall's clock tower for charity.
Although the weather caused a 30-minute delay to her stunt and made her late for her hair appointment, she still made it to the altar in time.
She said her wedding to Andrew Dunham was "a breeze" after scaling the tower.
Mrs Dunham (nee Metcalfe) said after tying the knot at St James Church in Ashworth: "It was very exhilarating but definitely more nerve-wracking than getting married.
"It certainly took my mind off any pre-wedding nerves."
Mrs Dunham, the head of Rochdale Borough Council's Education and Learning Trust, said: "I'd definitely recommend it to other brides-to-be; it certainly distracts you."
She had agreed to do the abseil for Number One Riverside - Giving Back charity, set up by Rochdale Borough Council staff, before the date was set.
When it was announced and she realised it was the same day as her wedding she decided to carry on regardless.
"I lost both my mum and dad recently and thought it would keep me busy and take my mind off it," Mrs Dunham said.
The newlywed was one of 100 people taking part in the abseil as part of the town's Feel Good Festival.
The council's acting chief executive Linda Fisher was first to abseil from the top of the tower, insisting she "tested it for the bride-to-be".
Mr Dunham did not take part in the abseil.
"He said it was bad luck to see the bride - well that was his excuse," said his new wife.