Serial killer novel poster in Harold Shipman's town criticised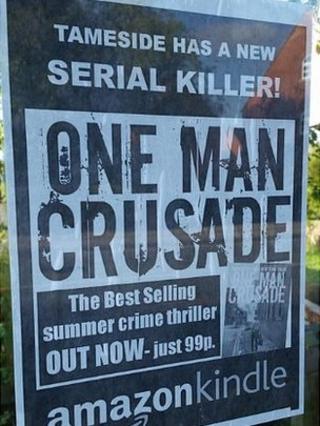 Posters promoting a crime novel in a district where a string of notorious killers struck distressed and offended people in the area, an MP has said.
Moors Murderers Myra Hindley and Ian Brady, GP Harold Shipman and police murderer Dale Cregan all killed in the Tameside area of Greater Manchester.
Author Steven Suttie has apologised for putting the posters up in Hyde.
"Anyone familiar with the history of Hyde will understand this will cause distress," said MP Jonathan Reynolds.
Mr Suttie, whose self-published novel One Man Crusade is available online, placed more than 20 fly-posters with the slogan "Tameside has a new serial killer" in Hyde, where Shipman, who was jailed for murdering 15 patients, had his surgery.
Mr Reynolds, the MP for Stalybridge and Hyde, was alerted by Councillor Andy Kinsey, who represents Hyde and Werneth Ward.
'So ill-conceived'
Mr Kinsey said: "My first thought was that it is very sick.
"I am a digital marketing manager at an agency... so I understand the tactics of marketing with these posters. However, this is so ill-conceived and potentially distressing that any author or publisher with a real grasp of the world would turn it away."
Mr Suttie said his book was set across Greater Manchester, adding: "The poster had different taglines for different areas."
He said he went out removing the posters from Hyde until 01:30 BST, and said: "I apologise for any offence I have caused and I am deeply upset that I have offended people such as Councillor Joe Kitchen, whose mother was a victim of Harold Shipman and who was very upset when he saw the poster."
Lovers Hindley and Brady killed the last two of their five victims at a house in Hattersley, in the 1960s while Dale Cregan murdered two police officers in a gun and grenade attack in 2012 in Mottram.