Clayton Barker asthma death: 999 error 'lessened survival chances'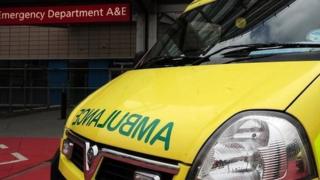 A boy who died of an asthma attack may have survived but for an emergency call handler's error, a coroner ruled.
Clayton Barker, eight, began struggling for breath at his grandmother Elaine's house in Oldham in March 2013.
She rang 999 but the operator sent the next available ambulance elsewhere. One arrived 23 minutes after the call and the boy died en route to hospital.
Coroner Simon Nelson said Clayton's chances would have been "enhanced" if paramedics reached him earlier.
The inquest in Heywood was told the operator asked Ms Barker if her grandson had difficulty speaking between breaths during the call on 14 March.
She answered yes, but the operator wrongly marked no, meaning the call was registered as green, instead of red - the classification signalling potentially life-threatening conditions.
'Busy handler'
Ms Barker phoned 999 at 19:17 GMT and the ambulance arrived at 19:40, eight minutes after Clayton collapsed due to breathing difficulties.
The inquest heard if the call handler had correctly identified the emergency the ambulance would have arrived by 19:27.
Angela Lee, assistant service manager at the North West Ambulance Service (NWAS) emergency centre said the call handler had taken 80 calls during an "extremely busy" shift and was using a series of scripted questions.
She said all staff were reminded of the importance of recording information accurately and this was "an individual error".
'Unambiguous evidence'
Delivering a narrative verdict, coroner Mr Nelson said the evidence "confirmed that the first of two emergency 999 calls was not processed in line with best practice".
"Had the correct response been generated, then the ambulance would have arrived before rather than after Clayton collapsed, in which case, on the balance of probabilities, his chances of survival would have been enhanced," he said.
Zak Golombeck, solicitor for Clayton's mother Gemma, said she would sue NWAS in light of the "unambiguous" evidence.
Director of operations Derek Cartwright said NWAS offered its apologies and sincere condolences to Clayton's family.
"We accept the coroner's comments and since this tragic incident, have reviewed our processes within our control rooms," he said.