Wythenshawe £12m A&E upgrade plans released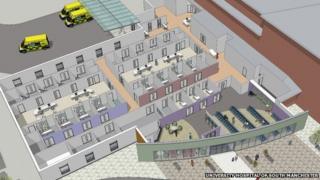 Plans have been released for a £12m redevelopment of a Manchester A&E department.
The move will see facilities at the University Hospital of South Manchester, Wythenshawe, upgraded to meet increasing patient numbers.
It follows the downgrading of nearby Trafford General Hospital's A&E department to an Urgent Care Centre, which closes overnight.
Work on the building, built in 2000, will be completed by autumn 2015.
The hospital said the "emergency village" will provide addition major and minor injury facilities and two additional resuscitation bays, bringing the total eight.
Dr Attila Vegh, Chief Executive at University Hospital of South Manchester NHS Foundation Trust, said the move was "great news".
He said: "The redevelopment of the A&E facility is a major investment, financially and emotionally, to the way that we will provide and deliver our health services to the public."