Jimmy Savile allegations lead to NAPAC demand increase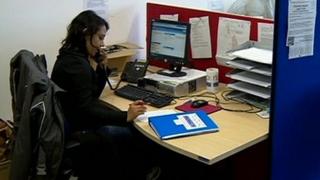 A charity supporting sex abuse victims has opened a new support centre due to an increase in demand for its services in the wake of high profile cases.
Sarah Kelly, of the National Association for People Abused in Childhood (NAPAC), said calls "went up sevenfold" after the allegations about Jimmy Savile in 2012 and remained high.
She said Rolf Harris and Stuart Hall's convictions had also brought in calls.
The Stockport centre will offer both phone and face-to-face support.
In total, the charity received about 3,600 calls and emails between 2010 and 2011, a number which increased to just over 7,000 between 2012 and 2013.
Ms Kelly said celebrity cases had "given survivors permission to start talking", which could be a cathartic experience.
"Any survivor will understand the power of the first disclosure.
"When somebody talks for the first time about that thing they have been carrying for 10, 20 or even 90 years, knowing somebody has heard it and still thinks they are a functioning human being, the feeling is incredible."