Thousands turn out for Manchester Pride parade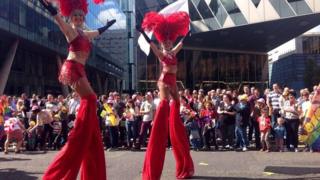 Tens of thousands of people turned out for Manchester's annual Pride parade.
Colourful floats and flamboyantly-dressed performers made their way from Liverpool Road to finish next to Manchester's Gay Village.
The four-day festival, now in its 23rd year, celebrates the lesbian, gay, bisexual and transgender community.
This year's theme celebrated same sex couples being able to marry, after the Marriage (Same Sex Couples) Act 2013 was introduced in March.
Lea DeLaria, from the US comedy drama Orange is the New Black, led the Manchester Pride parade.
Actor Antony Cotton, who plays Sean Tully in the ITV soap Coronation Street, said: "This is my 15th Pride as an involved patron.
"It's beautiful. It's nothing but a pleasure to be here."
Organisers said they wanted to "show the world that love has no boundaries".
Councillor Pat Karney, Manchester City Council's city centre spokesman, said: "Some of the costumes are out of this world.
"It's fantastic, the imagination and flair is unbelievable.
"This great, great day says it is OK to be gay."
Manchester's Pride festival first started as a collection of bring-and-buy stalls outside a pub.
Greater Manchester Chief Constable Sir Peter Fahy said: "There's a really serious message about tolerance... and about understanding."