Police to limit number of Gaza protesters in Manchester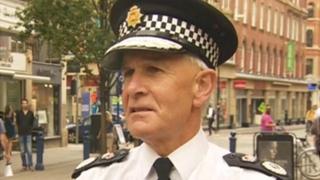 The number of protesters demonstrating over the situation in Gaza in Manchester city centre is to be limited, police have said.
Pro-Palestine and pro-Israeli groups have held protests in the King Street and Market Street areas since 19 July.
Greater Manchester's Chief Constable Sir Peter Fahy has decided to limit the number of protesters to 10 at a time to try to limit disruption to businesses.
From Saturday protesters will be moved to a designated area on Police Street.
'Democratic right'
Some demonstrators have been congregating outside the shop Kedem, which sells cosmetic products from Israel.
One of them, Dan, said protests should not be restricted as it "unfairly limits our right to assemble".
Sir Peter said while the restrictions would be enforced daily, the situation would be under constant review and it was "not a decision we have taken lightly".
"The right to protest is a fundamental part of our democracy, a right fully supported by the police and city council," he said.
"Protests such as this, which polarise views, are emotive and present difficult challenges for all involved.
"And while we will not shy away from these challenges, we have to balance our duty to uphold the rights of protesters against the rights of the public visiting and working in the city centre."
Bernard Priest, Manchester City Council's deputy leader, said: "Shops on Kings Street, as well as members of the public who are trying to go about their day-to-day business, have been affected by the protests and unfortunately we have now had to place some limited restrictions on the protests."