Manchester tram engineers find remains of more than 100 bodies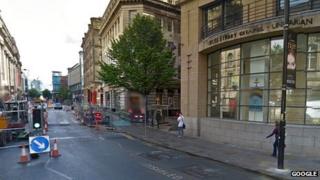 Engineers working on a new tram line in Manchester have discovered the human remains of more than 100 people.
Archaeologists believe the bones are linked to nearby Cross Street Chapel and may have been buried about 200 years ago.
They were found in Cross Street by Metrolink engineers working on the £165m Second City Crossing.
A project has begun to excavate and reinter the remains, which could date back to the late 18th Century.
Cross Street Chapel has been the meeting place of Unitarians in central Manchester since the 1660s.
'Duty of care'
Peter Cushing, a director at Transport for Greater Manchester, said: "We fully recognise the duty of care involved.
"That is why we are following all statutory procedures and are working closely with church and archaeological officials to ensure this work is completed sensitively and respectfully."
The work is being supervised by Greater Manchester Archaeological Advisory Service (GMAAS) at the University of Salford.
A report of their findings will be placed on record at Manchester Central Library at the end of the project.
Dr Andrew Myers, senior planning archaeologist at GMAAS, said the project was a "rare opportunity" to learn more about Manchester's industrial history.
"Historically, the growth of industrial Manchester in the late eighteenth and nineteenth centuries is a story of global significance," he said.
"We can learn directly from the remains of individuals who were part of the non-conformist movement in Manchester, which played a key role promoting awareness of the conditions in which working populations were living and in campaigns for social reforms."
​