Salford City Council investigate Salford Red Devils funding move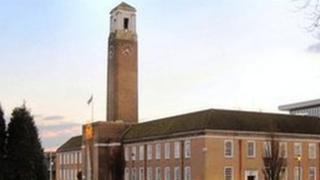 Salford City Council has launched an investigation after its mayor's decision to subsidise a rugby club by up to £164,000 was not scrutinised.
An internal auditors' report showed Ian Stewart approved the money when sums of more than £100,000 should be referred to councillors as a formal record.
The council official who proposed the deal took voluntary redundancy and now works at Salford Red Devils, so redundancy terms are also under review.
Mr Stewart welcomed the investigation.
The authority said the aim of the inquiry was to examine its "processes and procedures".
Mr Stewart agreed to underwrite two years of match day costs for the rugby league side, which leases the stadium where they play from the council.
Name change
In 2013, Salford City Reds changed ownership after they faced financial difficulty, including the "threat of liquidation", the auditors report said.
The club then became known as Salford Red Devils.
The money was agreed to "secure an investor" for the club, which then secured the "long-term future" of the stadium.
The stadium is jointly owned by Salford City Council and Peel Holdings.
Salford City Mayor Mr Stewart said: "My actions have always been in the best interests of Salford City Council and I will continue to do so."
According to the report Martin Vickers, who was employed as the strategic director for customer and support service, proposed the deal in July 2013 when council cuts of £22m had to be made.
He then applied for voluntary redundancy and went on to work at Salford Red Devils. Mr Vickers is currently the club's chief executive.
Following the move, the council said the process for agreeing severance payments was being reviewed to cover restrictions on future employment options.
'I'm appalled'
A Salford City Council spokesman said: "The [internal auditor's] report has now been made public ahead of the Audit and Accounts Committee meeting... where consideration will be given to the recommendations."
It has recommended the mayor's decision be reported to councillors for review and an independent legally trained officer monitors future decisions.
They will be discussed on Wednesday.
"I wait to hear the decision on the recommendations... to make sure our governance process is a strong as possible," Mr Stewart said.
Councillor Karen Garrido, leader of opposition, said: "I'm appalled. When you look at what we're having to do as a council to the most vulnerable within our city.
"They are prepared to prop up a rugby club, a private rugby club."
Mr Vickers said he could not comment because he had not seen the report.