Deacon Alan Morris jailed for school sex abuse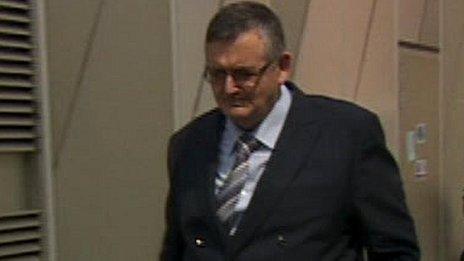 A deacon convicted of sexually abusing 10 boys at a Greater Manchester school has been jailed for nine years.
The Rev Alan Morris, 64, was found guilty of 19 sex assaults carried out when he taught at St Ambrose RC College in Hale Barns, Altrincham.
When the offences took place, between 1972 and 1991, the school was run by Roman Catholic religious order the Christian Brothers.
The crimes came to light in 2012 when one of the victims contacted police.
Morris, of Rivington Road, Hale, had denied all charges at Manchester Minshull Street Crown Court.
Joanna White of the Crown Prosecution Service (CPS) said he "abused his position of power within the school to prey on vulnerable young boys and continued to do so years after corporal punishment was abolished".
"He utilised the ability to carry out corporal punishment to perform acts and force others into acts which were designed to humiliate his victims in order to satisfy his own sexual desires," said Ms White.
"He had established a fearsome reputation as a ruthless disciplinarian at the school which prevented his young and frightened victims reporting him at the time."
The abuse came to light when an ex-pupil attended a child baptism ceremony involving Morris in 2012 and made a complaint.
Ms White said: "It was the complaint made by the ex-pupil which gave a number of victims the courage to contact the police.
"After many years of maintaining a facade of respectability, [he] has now been unveiled as a serial sexual offender who evaded justice for his crimes for decades."
Det Ch Insp Chris Bridge said: "For decades Morris displayed a veneer of total respectability; a science teacher in a well-respected and high-performing school and latterly as a deacon of the church.
"Today he has been unmasked as a persistent and prolific sex offender."
The detective added: "I have no doubt that he revelled in his fearsome reputation, taking it upon himself to seek out and punish pupils, using corporal punishment to cloak his real motive for chastising young boys."
Morris was a deacon at Holy Angels Church in Hale Barns at the time of his arrest but was withdrawn from active ministry with the Diocese of Shrewsbury.
The diocese said in a statement that Morris's crimes were a "source of great sadness and regret".
"Our thoughts and our prayers are very much with the innocent victims of the abuse carried out by Morris.
"We would like to assure them that the Diocese of Shrewsbury is totally committed to ensuring the safety of all children and vulnerable people in our parishes, schools and institutions."
St Ambrose RC College said in a statement it found it "abhorrent that Morris has been found to have betrayed the trust and responsibility that had been placed in him as a teacher".
"The incidents occurred many years ago and we would like to reassure parents, guardians and relatives that we have contemporary child safety policies in place and ensuring our pupils enjoy a happy and secure childhood and adolescence is our absolute priority."
Related Internet Links
The BBC is not responsible for the content of external sites.