Girl, 14, rescued from River Tame after bid to save dog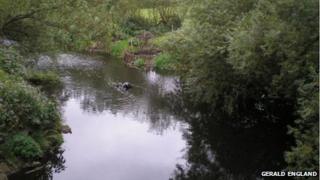 A 14-year-old girl who cannot swim had to be rescued from a river after she jumped in to try to save a dog.
The teenager was riding a horse along the River Tame in Denton, Greater Manchester, when she jumped in the water to help the dog.
Firefighters had to rescue her when she also got into difficulties, with water coming up to her shoulders.
Colleagues then went downstream to more shallow water to try to get the dog, named Fizz, away from the riverbank.
Watch manager Stephen Gribbon said: "We then sent the dog's owner downstream to where the firefighters were and we kept quiet so the dog would hear its owner's voice and swim towards the shallow end of the water where firefighters were able to coax it out."
The girl and the dog were unharmed.
Mr Gribbon said: "The girl thought she was doing the right thing but it's extremely dangerous to go into open water as you never know how deep it is or what's underneath.
"We would like to remind people to never go into open water to attempt to rescue an animal.
"A dog will get itself out of water so if you do see an animal in difficulties, by all means call the emergency services and wait for help but do not try to be a hero."