Woman arrested over baby 'suffocation' death in Oldham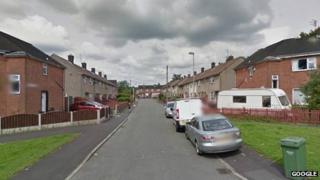 A woman has been arrested on suspicion of suffocating a baby of "barely three weeks old" by lying on the infant.
The baby was found to be "unresponsive" by paramedics at Lychgate Court in Oldham in the early hours of Friday.
A woman, 55, has been held on suspicion of causing death by overlaying - a term used when a baby is suffocated by somebody who lies on them while in bed.
The baby was taken to Royal Oldham Hospital but was confirmed dead a short time later.
Det Insp Dave Moores said: "This is an absolutely tragic case in which a baby who is barely three weeks old has died.
"An investigation is under way and we are committed to identifying how and why this baby died."