Margaret Thatcher adviser Dame Kathleen Ollerenshaw dies aged 101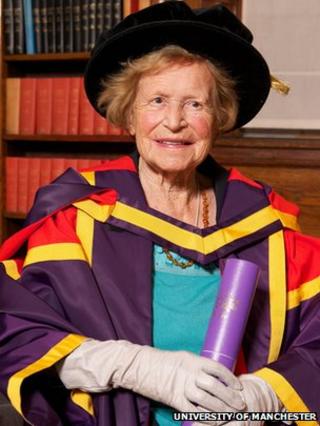 The mathematician, politician and music enthusiast Dame Kathleen Ollerenshaw has died at the age of 101.
Dame Kathleen, who was Manchester's Lord Mayor in 1975, was an adviser on education to Prime Minister Margaret Thatcher in the 1980s.
She was also one of the driving forces behind the creation of the Royal Northern College of Music in 1973.
The college's principal Professor Linda Merrick said she was a "truly remarkable woman of many parts".
Born in Withington in 1912, Dame Kathleen lost her hearing at the age of eight but went on to read mathematics at Oxford University's Somerville College.
Her life-long love of maths saw her publish a book on mathematical "magic squares" - grid arrangements of numbers similar to Sudoku puzzles - to international acclaim at the age of 86.
She also published one of the first solutions to the Rubik's cube, the intensive research of which caused her to damage thumb tendons.
Her work to encourage children into mathematics saw her appointed a dame in 1971.
'Inspiring role model'
She served as a Conservative councillor for Rusholme from 1956 to 1981, was granted the freedom of Manchester in 1984 and held honorary doctorates from the universities of Manchester, Lancaster and Liverpool.
The University of Manchester said she was "an inspiring role model to many".
She was also a keen astronomer and built her own observatory in the Lake District at the age of 78.
She later donated her telescope to Lancaster University, which named its observatory after her.
A spokesman for the RNCM said Dame Kathleen was such a strong supporter that in 1969, prior to its founding, she drove her car "round and round the building site through the night to prevent it from being occupied by travellers".
Dame Kathleen died on Sunday at a nursing home.