Boxer Amir Khan to launch charitable foundation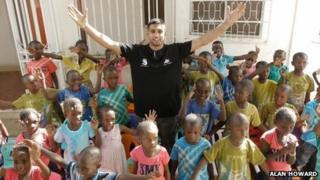 Boxer Amir Khan is launching a charitable foundation to support deprived children around the world.
The two-time world light welterweight champion recently returned from Gambia and said he was "determined to change things".
He is financing a new school, orphanage and well in the country.
The project has begun ahead of the official launch of the Amir Khan Foundation at the Hilton in Manchester on Thursday.
'Safe place to sleep'
Bolton-born Khan said: "Gunjur is an extremely deprived area in Gambia where I'm determined to change things by building the orphanage, so children can have a safe place to sleep and be educated.
"The kids starve to death here and it hurts so much to see this happening."
The orphanage will cost about £200,000 to build and will look after more than 150 children.
It will be managed and run by the foundation alongside the Penny Appeal charity.