Wigan Council to spend £11m on LED lights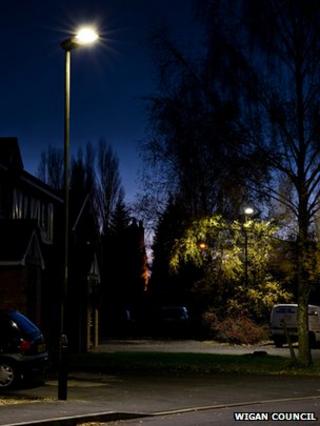 Wigan Council is to spend £11m replacing existing street lighting with "highly efficient and environmentally friendly" devices.
Around 31,000 LED lights will be installed across the borough over the next three years, replacing lights using sodium bulbs.
More than 5,500 have already been installed, a council spokesman said.
The move is expected to the authority up to £1m a year in energy costs and maintenance bills.
Council leader Lord Peter Smith said the lights were being used as an alternative to switching off street lighting.
"I know some councils are switching lights off to save money but I don't think that's something people would want in Wigan," he said.
"We've instead come up with a new scheme which will still offer the same service the public expects but will be considerably cheaper."
The new lights were "highly efficient and environmentally-friendly", he said.
The council spokesman said the lights would not need to be replaced for at least 20 years.