Ernest Sykes: Railway man VC winner recalled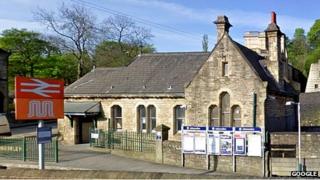 A soldier from Greater Manchester awarded the Victoria Cross two years after nearly losing his foot in WW1, has been honoured with a plaque.
The plaque was unveiled at 13:00 BST in Mossley Railway Station where Pte Ernest Sykes worked.
He was given the army's highest award for bravery for treating five wounded men under heavy machine gun fire at the Battle of Arras in 1917.
After the war Mr Sykes worked on the railways before his death in 1949.
Serving with the 7th Battalion The Duke of Wellington's (West Riding) Regiment, his foot injuries were so severe after the Gallipoli landings in 1915 that amputation was considered.
Several operations saved his limb and he was posted back to the UK.
But he was later passed as fit to serve with the 27th (Service) Battalion, Northumberland Fusiliers (Tyneside Irish Brigade), who he fought with at the Battle of Arras.
Another plaque was unveiled in his memory by Tameside Council in 1996 at George Lawton Hall in Mossley.