Christie Hospital cleared in human tissue sales probe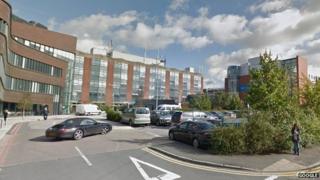 A cancer hospital did not sell human tissue samples to drugs companies without patients' knowledge, an investigation has found.
The Christie Hospital in Manchester was investigated following allegations raised by MP Rosie Cooper.
Among the claims, a staff member was alleged to have received bottles of whisky and cash for samples.
The Human Tissue Authority (HTA) found no evidence of samples being sold without consent.
Other aspects of the claims, including allegations about poor leadership, remain under investigation by two other watchdogs.
Monitor, which examines NHS trust leadership, and the Care Quality Commission (CQC), are yet to reveal their findings.
A statement from the HTA said the hospital was within its rights to operate a "cost recovery system when sharing tissue donations with researchers".
The HTA said patients were given adequate information to give "informed consent", and this was "consistent with practice across the UK".
A spokesman for the hospital said: "We are pleased that the HTA findings have endorsed our procedures and processes.
"As previously stated, we comply with the Human Tissue Authority regulations and are confident our protocols are in line with both accepted and general practice in the UK, as well as meeting, if not exceeding, regulatory requirements."
Health Select Committee member Ms Cooper wrote to the HTA following allegations raised by whistleblowers.