Two arrested after HMP Manchester 'legal highs' raid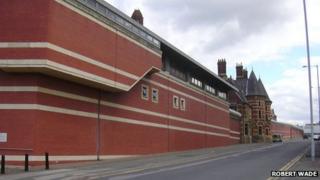 More than 10,000 units of suspected "legal highs" have been seized after an investigation into drug trafficking at a Manchester prison.
Police said a raid was carried out at a shop on Bury New Road, Strangeways, on Tuesday and two men were arrested on suspicion of drugs offences.
It follows a "marked increase" in HMP Manchester staff seizing new psychoactive substances (NPS).
The sachets, pills and liquids have been sent off for forensic analysis.
Police said the men had been released on bail pending further inquiries. £6,000 in cash was also seized in the raid.
---
Psychoactive substances
Synthetic substances mimic effects of traditional drugs such as cannabis or cocaine
Number of known NPS rose from 166 in 2009 to 348 in 2013
Main NPS include mephedrone ("M-CAT" or "meow meow"), BZP, Spice, ketamine ("kit kat")
Many sold openly, including via the internet
Can be "far more dangerous than traditional drugs", UN says
---
Det Insp Liam Biden said: "While we still have to forensically test the thousands of units we have recovered, if they are controlled drugs, then we will have made a huge dent into the supply chain of NPS."
A spokesman for HMP Manchester said: "The availability of illicit drugs in our prisons impacts greatly on prison life and can lead to violence and intimidation of both prisoners and their family members outside the prison.
"HMP Manchester and our partners in Greater Manchester Police will make every effort to prevent such criminal activity."
The prison, formerly known as Strangeways, is high security and houses about 1,200 inmates.
Nearly 350 types of NPS have been identified, the UN's Office on Drugs and Crime (UNODC) said in May.