Greater Manchester Police amnesty nets 225 firearms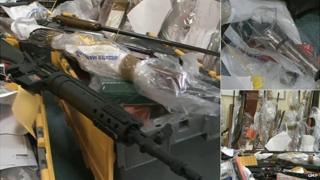 Greater Manchester Police has collected 225 firearms and about 3,700 rounds of ammunition during a two-week amnesty.
The amnesty, which ran from 12 to 26 July, allowed weapons to be handed in anonymously, without prosecution for illegal possession.
The number of firearms handed in has dropped since the force's last amnesty in 2008, when more than 1,000 guns were handed in.
Weapons in the haul included an antique shotgun disguised as a walking stick.
Rifles, shotguns, handguns and a submachine gun were also handed over, along with several air weapons.
More than 80 of the guns were illegally owned, police said.
Det Ch Insp Debbie Dooley said the number handed in during the current and 2008 amnesties were "almost proportionate" to the number of firearms incidents taking place throughout the respective periods.
She said: "The number of incidents has drastically reduced in recent years, showing that the previous amnesty and resulting partnership work had a long term impact and successfully lowered the number of firearms in circulation.
"The previous hand in was also twice as long, spanning a month in duration."