Stockport residents told pothole repair job 'could harm horses'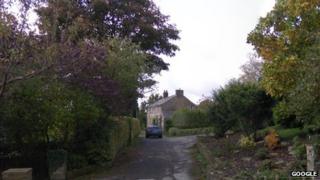 A £5,000 pothole repair job funded by residents must be undone amid fears the new road surface could harm horses' feet.
People in Pinfold Lane, Stockport, raised the money themselves after becoming frustrated at the state of the lane.
But horse riders complained the new limestone surface could injure their animals.
Stockport Council said all groups were now working towards a compromise.
The road is classed as a bridleway and is used by horse riders and pedestrians, as well as cars.
Councillor Martin Candler, the council's executive member for communities and sustainability, said the residents should have approached the council before paying for the work.
'Residents confused'
"The material used was limestone and a few months after the work was completed, equestrian users complained about the non-suitability of the material and asked for its removal," he said.
"We have informed the residents of the need to replace the material with something suitable.
"However, the council is committed to working with the primary road users and the local residents to seek a compromise."
Debi Hall, chairman of Stockport East Area Bridleways Association, said: "The surface is limestone, which is totally inappropriate for horses.
"Even if a roller has been used, once people start driving on it, it rips it up and could hurt them."
However, residents say they have been left confused by the situation, and fear they may have to pay towards the cost of removing the surface.
Peter Griffiths, 50, who owns a property in Pinfold Lane, said: "We thought we were within our rights to do the work, and the material is the same stuff used in most road surfaces."
A council spokesman was not able to confirm who would ultimately be responsible for paying for the road surface to be removed.