Sir Peter Fahy: Gaza protests 'threaten cohesion' in Manchester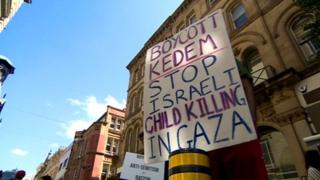 Protests in Manchester against Israel's military campaign in Gaza risk "community cohesion" in the city, its police chief constable has said.
Sir Peter Fahy, Chief Constable of Greater Manchester Police, urged groups to reconsider how they protest.
Businesses selling Israeli goods have been targeted by protestors, with some alleging death threats.
Mr Fahy asked protesters to consider "whether there were other ways to express strong views."
"We are now facing the very real prospect of tensions in another part of the world spilling onto the streets of Manchester, and that poses a risk to our very good community cohesion," he said.
Cosmetics boycott
Pro-Palestinian campaigners have been gathering outside the Kedem cosmetics store in the city centre for the past two weeks, asking shoppers to boycott its products.
Shop owner Zahi Surezki said he had received death threats and warnings the shop could face an arson attack.
"We're just a cosmetics shop, we didn't come to fight," he said.
Counter-demonstrations have also taken place in the city.
Manchester Boycott Kedem - the group who have organised the demonstrations - pledged to continue "peaceful protests" outside the store.