WW1 outbreak marked with Quays Honour show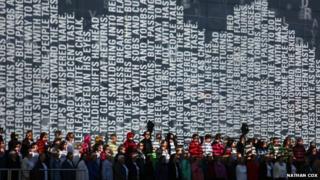 A large multimedia performance in Salford featuring a choir of hundreds commemorated the centenary of the outbreak of World War One later.
The free outdoor show, which began at 22:00 BST, saw about 250 singers perform in front of giant projections at MediaCityUK on the Quays.
The centrepiece was the performance of a specially commissioned anthem called Honour.
Creative producer Lucy Dusgate said it would be "quite a show".
The event also featured poetry, animation, dance and theatre.
Ms Dusgate said Honour had been inspired by the war poets, such as Siegfried Sassoon and Hedd Wyn, and included "local stories that people have from their families about loss".
The anthem was specially created by composer Andy Smith for the show, conducted by choral director Jeff Borradaile.
It included a solo sung by Chetham's School of Music pupil Joel Colyer.
The 11-year-old said he was looking forward to singing as performing "gives me a buzz and makes me feel good".
His mother Kerry said she was "very proud that he will have the chance to sing for so many people, especially as it is in memory of the millions of people whose lives were affected by a terrible war that ended so long before he was born".
The show took place in advance of the 100th anniversary of the beginning of World War One, which falls on Monday.