Broadheath arson attack: Four children forced to flee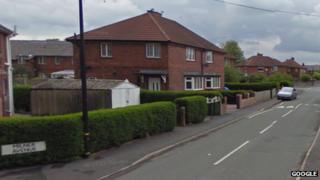 Four children were forced to flee a house in Altrincham after what police called a "callous" arson attack.
Police said a bottle of "accelerant" was thrown through the window of a house on Milner Avenue, Broadheath at about 14:45 BST on Monday.
A neighbour saw flames coming from the house and went to help the children and an adult to safety.
Det Sgt Izzy Dever said the attack was carried out with "no regard for the people inside".
"It was a deliberate and callous attack where people could have been seriously injured," she said.
The fire service put out the blaze before it fully took hold, a spokesman said.