'Heroic' neighbour and postman save Golborne family from fire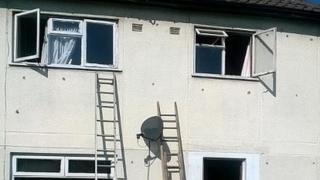 An "heroic" neighbour and a postman saved a family of three from a burning house in Wigan, Greater Manchester Fire and Rescue said.
Crews went to the house on Elm Grove in Golborne at about 09:00 BST after reports of a fire in the lounge.
The fire service's Steve Sheridan said a neighbour used a ladder to rescue two children, aged two and four, while the postman "shouldered the door in and got their mum out".
He said they did "a fantastic job".
He said another neighbour had gone "round the back and smashed the door in to try and get them out too".
'Game gone wrong'
A fire service spokesman said the fire was thought to have started "after a game between the children went disastrously wrong".
The family was taken to Wigan Infirmary for treatment for smoke inhalation.
One of the neighbours was also treated for smoke inhalation, while the other suffered cuts to his hands and legs.
Mr Sheridan said their actions had "potentially saved the lives of this family".