Walking stick shotgun surrendered in Greater Manchester amnesty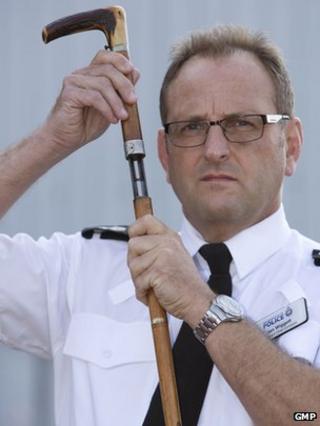 An antique shotgun disguised as a walking stick has been handed in to police as part of a Greater Manchester gun amnesty.
The gun is one of 164 weapons handed in since the amnesty began on 12 July.
A police spokesman said the cane gun, thought to have been made in the 1800s, was a prohibited weapon which could not be licensed.
He said it was a "very peculiar discovery".
Cane guns were popular in the 19th and early 20th Century, when they were used by gentlemen to shoot wild game within their grounds, the spokesman said.
Greater Manchester Police's firearms amnesty runs until Saturday.
The force said a "varying range of shotguns, air rifles and hand held pistols" had been surrendered, along with hundreds of rounds of ammunition.