Plaque to honour playwright Shelagh Delaney in Salford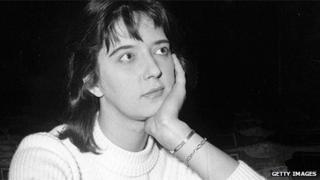 A plaque honouring the playwright Shelagh Delaney will be placed outside her former home in Salford.
Delaney, who is best known for A Taste of Honey, lived at 77 Duchy Road until she was about 22 years old.
The plaque is being installed by social housing firm Salix Homes to commemorate her life. Delaney died from cancer aged 71 in 2011.
Her daughter Charlotte said the house was a "place of love and laughter". The unveiling takes place on 3 September.
'Loved Salford daughter'
Ms Delaney, who will be carrying out the unveiling at the ceremony, said: "I'm honouring so much more than the home of A Taste of Honey.
"Number 77 Duchy Road was always a place of love, laughter and support for both me and my mum.
"She trusted and respected her community and I believe this always shone through in her work," she said.
Her mother was 19 when A Taste of Honey, which is about the friendship between a young pregnant woman and a gay artist, premiered in 1958.
Louise Woodward-Styles, who spearheaded the campaign for a plaque, thanked those involved for the "wonderful and touching tribute in honour of a much loved Salford daughter".
Sue Sutton, chief executive of Salix Homes, said: "Everyone is immensely proud of Shelagh and all that she achieved, so this plaque on her childhood home is a perfect way to ensure that her vast achievements are never forgotten."