Parklife Festival death: Police release images of witnesses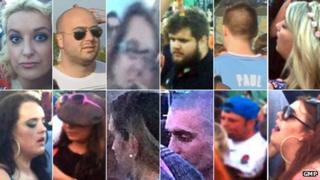 Police have issued images of 12 people who were around the main stage of Manchester's Parklife Festival when a man was fatally injured.
Robert Hart, 26, of Macclesfield, Cheshire, died in hospital four days after he was assaulted in Heaton Park at about 21:15 BST on 7 June.
He was attacked by a man before Snoop Dogg was due to go on stage.
A new photograph of Mr Hart and his girlfriend Gemma Parry at the festival has been released for the appeal.
Mr Hart was left with a bleed on the brain after the attack, police said.
Det Insp Richard Eales said: "We are keen to talk to the 12 people identified in the pictures as potential witnesses to the attack.
"We would like to stress that they are not in any trouble whatsoever, but we believe they could unknowingly have mobile phone footage or pictures which could be crucial to the investigation."
Police have described Mr Hart's attacker as mixed race, in his mid-20s and about 6ft 1in tall. He was wearing a dark coloured, waist-length jacket and dark coloured shorts.
A £20,000 reward is being offered by the festival organiser and Crimestoppers is offering an additional £3,000 to help catch the man responsible for Mr Hart's death.