Boggart Hole Clough park bird deaths prompts tests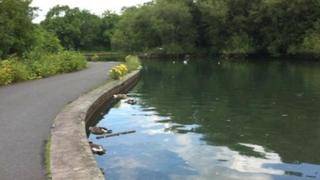 Tests are being conducted to discover what has killed more than 80 birds in a Manchester park's lake.
In the past week ducks, geese and coots have been found dead in the water at Boggart Hole Clough, Blackley.
It was first thought that toxic blue-green algae may be responsible, but Environment Agency water samples found no trace of the bacteria, Manchester City Council said.
Results from an autopsy on one of the birds are yet to be published.
The council said visitors are being asked not enter the lake or allow their dogs to play in water in "as a precaution".
A Environment Agency spokesman said: "We have tested for blue-green algae and that has come back negative. It is no longer an Environment Agency issue."
An RSPCA spokeswoman said it was "still unclear what the cause of the problem is" and an investigation was under way.
"We will continue to monitor the condition of the remaining birds which are living wild on an island in the middle of the lake," she said.
The park covers 190 acres and includes woodland, play areas and tennis courts.