Victoria Pendleton's medal-winning bike is museum centrepiece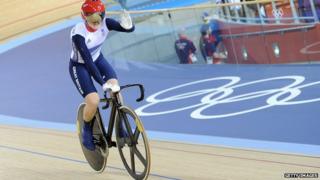 The bike ridden by Victoria Pendleton to win her gold medal at the London 2012 Olympics is the centrepiece of a new exhibition at a Manchester museum.
The custom-build carbon fibre bike is on show at the Museum of Science and Industry in an exhibition celebrating the city's links with cycling.
Other exhibits include an early "boneshaker" bicycle from 1868 and an 1885 Penny Farthing.
Both were manufactured in the Greater Manchester area.
The free exhibition also has an audio visual section featuring interviews with medal-winning cyclists including Dame Sarah Storey, Ed Clancy, Dani King and Jody Cundy.
The Manchester Velodrome is home to the Great Britain cycling team.