Starving stepdaughter 'was fed raw potato peel'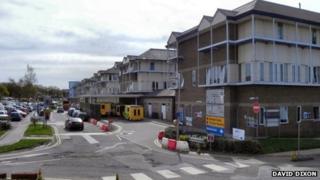 A man who left his 10-year-old stepdaughter to become severely malnourished while he fed his own children normally has been jailed.
The girl was fed intermittently on potato peelings at her home in Rochdale and eventually collapsed, said police.
The man admitted allowing or causing a child to suffer serious harm and was jailed for three years by Manchester's Minshull Street Crown Court.
The girl's mother was given a 15-month suspended term for allowing the abuse.
The couple, who cannot be named for legal reasons, admitted the charges ahead of a trial.
The court heard the man was the children's main carer due to his partner's working hours.
The girl's mother eventually found her daughter unresponsive on the bathroom floor.
She was taken to hospital and regained consciousness the next day.
Doctors found she was severely malnourished and had a distended abdomen and swollen legs, said police.
'Dad isn't feeding me'
They said the woman told her daughter she would get fed every day and be given "pudding and custard" if she did not tell anybody what was going on.
But the girl told officers: "Mum knows Dad isn't feeding me."
In 2011, the child's primary school referred her to social services because of concern about her welfare.
She moved schools and her new teachers noticed the girl complained about not getting breakfast and was gorging herself at lunchtime.
Her stepfather initially had a good relationship with the child, but his priorities changed when he had his own children with the girl's mother, the court was told.
He claimed she showed signs of attention-seeking behaviour, so started to ignore her during meal times.
Serious case review
Judge Jonathan Foster QC said: "When concerns were raised, some excuse was produced to deflect attention.
"I find it no coincidence that this is the one child under your care that was not your natural child."
Det Insp Caroline Ward said: "She is now in a loving, caring and nurturing environment, but the abuse she has suffered will most likely stay with her for the rest of her life."
Rochdale Council said a serious case review was under way, with a report due to be published later this year.