Syria donations centre opens in Manchester to deter fighters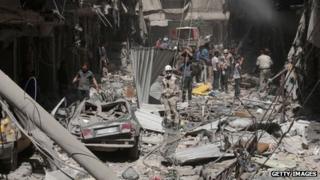 A centre has opened in Manchester for aid donations for Syria, which police hope will deter people from going to fight or provide relief.
Greater Manchester Police (GMP) has backed the charity Syria Relief, which has set up the aid and volunteering site in Whitworth Street East.
GMP said it would allow people to help without putting themselves in "danger".
Twins Zahra and Salma Halane, 16, from Chorlton, were reported missing in June and are believed to be in Syria.
The North West Counter Terrorism Unit is investigating the reason for their travel and whether they were assisted.
Their brother was reportedly a fighter for the extremist militant group Islamic State of Iraq and the Levant (Isis).
About 500 UK Muslims are thought to have gone to fight in Syria.
'Humanitarian effort'
Chief Constable Sir Peter Fahy said: "We know there are many people...who want to support the millions of people who are caught up in the Syrian conflict.
"Anyone who does travel there is putting themselves in considerable danger and that is why this volunteering facility is so valuable...giving people the opportunity to donate and assist with the humanitarian effort without putting themselves and others in danger."
Syria Relief said people could donate clothes, blankets and food at New Smithfield Market and also volunteer to pack donations into containers.
An estimated 6.5 million people have been displaced in Syria since an uprising against President Bashar al-Assad began in March 2011.