Mother, boyfriend and lodger deny Oldham baby death responsibility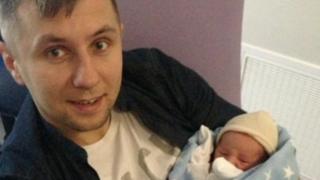 A mother returned from shopping to find her lodger had inflicted a serious head injury on her newborn baby but waited 10 hours to take him to hospital, Preston Crown Court has heard.
Thomas Gacek died on 27 January.
His mother Katarzyna Gacek, 24, of Oldham, her boyfriend Darren Butterfield, of Chadderton, and lodger Dawid Mokrzanowski all deny causing or allowing the death of a child.
Mr Mokrzanowski, 26, also denies the manslaughter of the seven-week-old.
The trial heard Ms Gacek went shopping on the morning of 25 January in Oldham town centre and left Thomas in the care of Mr Mokrzanowski.
Fractured ribs
When she got back home at 13:00 GMT she told the court she noticed a cut and bruising to his lip and Mr Mokrzanowski told her it must have happened on a rocking cradle.
She took her son to Royal Oldham Hospital with Mr Butterfield, 35, late that evening, the court heard.
The jury heard from medics who said Thomas had head and ear injuries as well as multiple bruises when he was admitted.
Medical experts, the jury heard, concluded the injuries were suggestive of inflicted injuries and they said Thomas had suffered fractured ribs caused by striking or shaking.
The court also heard evidence his head injury had caused a bleed to the brain.
Thomas was transferred to the Royal Manchester Children's Hospital, but died three days later.
All three defendants initially said the injuries happened when Ms Gacek tripped when carrying Thomas but later admitted this was not true, the court was told.
The trial of Ms Gacek and Mr Mokrzanowski, both of Hillside Avenue and Mr Butterfield, of Ross Avenue, continues.