Proposed Bury bin changes a 'bad decision' says minister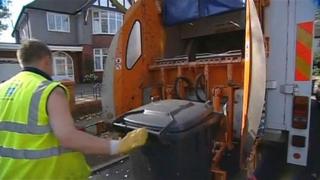 A plan to change collections for household rubbish in Bury to once every three weeks is a "bad decision", the Local Government Minister said.
Council proposals include increasing the regularity of green and blue bin collections from every four weeks to three to help increase recycling.
Bury council is aiming to save £800,000 a year and boost recycling rates from 47% to 60% in the borough.
Brandon Lewis said most people wanted their bins collected "every week".
The Conservative MP said: "The average council tax payer is paying just over £120 a month.
"I think you have a fair point, as a council tax payer, to say 'one of the key things I expect is to have my waste collected'".
Bury Council currently collects grey bins, used for household rubbish, every two weeks.
Fly tipping threat
Labour councillor Tony Isherwood said: "We're hoping we can encourage the people of Bury to support us as they supported us in 2011 when we went on to fortnightly collections and we increased the household recycling rate from 28% to 47%.
"We are going to put [the savings] towards the £16m of cuts we have to find next year on top of the £40m we have already found."
Erik Bichard, professor in regeneration and sustainable development at The University of Salford, said: "We have seen that when councils went to fortnightly collections there was a 20% increase in fly tipping.
"Local councils spent £36m last year on cleaning illegal waste deposits, so it could be a situation where money is saved in one area, but is spent in another."
The Greater Manchester Waste Authority said it was backing the proposals.
The move will be voted on next week, with the proposed changes taking effect in October.