Wigan off-road motorbike rider jailed after hitting girl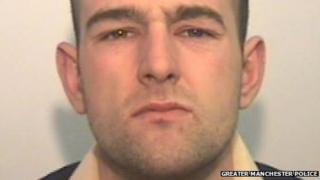 A 23-year-old man has been jailed after he hit a girl while riding an off-road motorbike in Greater Manchester.
Daniel Atkinson, of Plane Avenue, Wigan, was jailed for four months at Liverpool Crown Court, after admitting driving while disqualified and without insurance, and three other offences.
The nine-year-old girl was struck in Plane Avenue on Saturday, 14 June.
She was flown to hospital for treatment to a serious head injury and a broken leg, police said.
Atkinson was also disqualified from driving for 18 months and given a supervision order for 12 months.
Sgt Lee Westhead said: "As a result of his selfish actions, a young girl is still in a lot of pain and is facing a long recovery and treatment to her injuries."